Where There Are Backpacks, There Are Bright Futures
The Legion of Good Will Completes its 2016 "Backpacks for a Bright Future" Campaign
Back-to-school season can be exciting for some children, yet for others this time of year makes them nervous – but not for the reasons you would think. It is not that these children are dreading entering the classroom to learn, but that their families may not be able to afford the necessary school supplies that would provide them with a successful learning experience. At the Legion of Good Will, we recognize that this important issue has a simple solution, and we are actively trying to solve it in the Newark, NJ area. This fall was all about giving back to our schools as our annual "Backpacks for Bright Futures" campaign came into full swing to help lower-income families provide these essential supplies for learning.
Backpacks for a Bright Future 2016 Campaign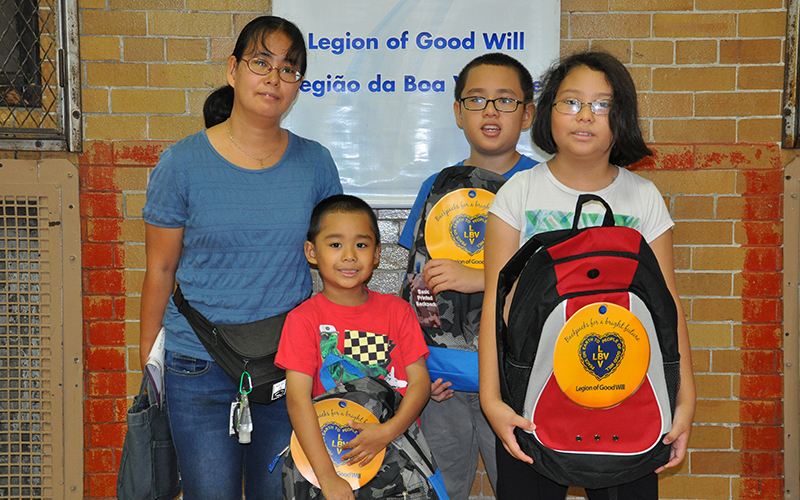 During the course of the campaign, the Legion of Good Will distributed over 200 backpacks filled with school supplies to five different locations, which included the Oliver St. School, the Hawkins St. School, the YMCA Shelter of Newark & Vicinity, and the Wilson Avenue School in Newark and the Lincoln Ave. School in Orange. The well-deserving families gathered after school to pick up their donations where the children could dig into their new backpacks filled with brand new school supplies to use the next day in class.
The Principal of Lincoln Avenue School, Ms. White, expressed her appreciation for the Legion of Good Will's efforts and the importance of her students being prepared with the right materials in the classroom: "It is so very important that our students have the necessary supplies to be successful academically in their classrooms. Many of our children in the community are not able to afford the supplies that they need for back-to-school. So this donation comes as a really big help for our families and we are just so thankful."
We are as grateful as our beneficiaries to help lay the foundation for learning in the classroom with our "Backpacks for a Bright Future" campaign, and also hope to instill the importance of helping others in the process.
As the last of the backpacks were distributed to the children, it was hard not to notice their gushing smiles and eruptions of sweet laughter as they gathered together to look at all their new belongings. It could be that new spiral notebook and freshly sharpened box of colored pencils that will nurture a child's creativity, but only because he or she received the right supplies. Their authentic excitement to receive these donations truly shows us that if students are given everything they need to succeed, that child will gain the confidence to do just that.
An immense thank you goes out to all the donors and volunteers who helped make our 2016 "Backpacks for a Bright Future" campaign a great success! Your generosity has made a tremendous difference in the lives of so many Newark families.